QuickCharge
Pro
Charge All Your Devices

4 x Faster
Introducing QuickCharge Pro, a dependable smartphone charger engineered to enhance charging speed for up to four devices simultaneously.
35 minutes

From 0% to 100%

4 x

Times Faster

100%

Safeguarded

4 x

Adaptive Ports
Stay organized with
QuickCharge Pro™
Fast Charge Four Devices at Once

The ultimate charging solution for your modern lifestyle. Say goodbye to the frustration of waiting for each device to charge one by one. With our 4-Port Super Fast QuickCharge PRO, you can power up to four devices simultaneously, saving you time and eliminating the need for multiple chargers.

Buy Now - 50% Off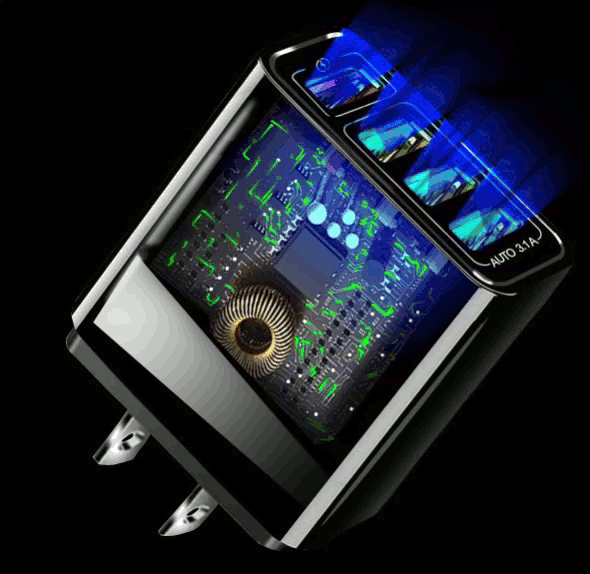 QuickCharge Pro

will charge all your devices simultaneously at lightning speed.

Your Smartphone

Your Laptop

Your Tablet

Your Smart Watch
QC 3.0 Technology


Charge your devices

4x

faster

Experience the incredible charging speed with QuickCharge Pro and its QC 3.0 technology. With QuickCharge Pro and QC 3.0, you can charge your devices from 0% to 100% in just 35 minutes, saving you valuable time and keeping you connected throughout the day. Embrace the power of QC 3.0 and enjoy the convenience of lightning-fast charging for all your devices.

Buy Now - 50% Off
What Makes
QuickCharge Pro

the

Best Charger

on the Market

With its remarkable features and unparalleled charging speed, QuickCharge Pro currently holds the title of the best fast charger on the market, as confirmed by the experiences of satisfied users.
ULTRA-FAST

CHARGING

Smart QC 3.0 Technology, enabling your devices to charge at an astounding 4 times the speed. In just 35 minutes, your device can be fully charged from 0% to 100%.
DURABLE

SHOCKPROOF CASING

With its durable shockproof casing, QuickCharge Pro ensures reliable protection for uninterrupted charging, even in rugged environments.
COMPATIBLE WITH
APPLE®

AND

ANDROID™

DEVICES

QuickCharge Pro is designed to be compatible with a wide range of devices, including Apple® and Android™ devices, ensuring seamless charging for all your gadgets.
4x USB

CHARGING PORTS

Equipped with four USB charging ports, QuickCharge Pro provides ample charging options for multiple devices simultaneously.
COMPACT

&

PORTABLE

DESIGN

Featuring a compact and portable design, QuickCharge Pro is perfect for on-the-go charging, allowing you to conveniently power up your devices anytime, anywhere.
SMART
MULTI-CURRENT

SYSTEM


Advanced technology integrated into QuickCharge Pro that optimizes charging efficiency and adapts to the specific power requirements of each connected device.
Faster 4xwith QC 3.0 Technology
Extend the life of your battery
With its intelligent recognition technology, QuickCharge Pro™ precisely sets the power output, delivering an optimal charge tailored to the specific needs of your device, thereby extending its battery life.
More 4x CHARGING PORTS
Charge all of your devices at once
Effortlessly charge multiple devices simultaneously with QuickCharge Pro™, eliminating the need for multiple chargers and allowing you to power up all your devices at once.
Discover what our clients have to say about
QuickCharge Pro™

I was skeptical at first, but QuickCharge Pro exceeded my expectations. The charging speed is truly impressive, and I love the fact that it automatically detects the optimal power output for each device. ...

I can now charge my smartphone, tablet, and smartwatch all at once without any hassle. The charging speed is impressive, and I no longer have to wait for hours to get my devices fully charged. Highly recommended!

This fast-charger is undoubtedly the top choice in the market. Whenever my watch or phone is running low on battery, I simply connect it to my computer or any USB port, and within just 15 minutes, it charges to a full 100%...
Frequently asked Questions about
QuickCharge Pro
01

Does QuickCharge Pro support fast charging for older generation devices?
Yes, QuickCharge Pro is designed to be backward compatible and supports fast charging for older generation devices. You can enjoy the benefits of rapid charging even with your older devices.
02

Can QuickCharge Pro be found in stores?
QuickCharge Pro is not yet available in physical stores. Currently, it can only be purchased online. However, the good news is that it is currently on a special discount offer, making it an ideal time to order and take advantage of the promotional pricing.
03

What is the process for setting up QuickCharge Pro?
Setting up QuickCharge Pro is incredibly simple. Upon receiving the package, all you need to do is unbox the charger and plug it into a power outlet. Connect your devices using the USB charging cables, and QuickCharge Pro is ready to use.
04

What is the voltage range that QuickCharge Pro operates on?
QuickCharge Pro operates on a voltage range of AC 100-240V, which means it can be used with various standard household voltages found worldwide. This wide voltage compatibility ensures that you can use QuickCharge Pro in different regions without any issues.
05

What is the cost of QuickCharge Pro?
To explore detailed pricing information, exclusive packages, discounts, and other special offers, we invite you to visit our checkout page. There, you will find a comprehensive overview of our pricing options, including our super value packages, coupons, promotions, and other enticing benefits...
Exclusive
50% discount


available

this month

only!

Don't miss out on this fantastic opportunity!
Grab your QuickCharge Pro now at a discounted price.